Love yourself, Heal Your Life ®

A wonderful workshop, often described by many as 'healing' and 'transformative'. This workshop is based on the revolutionary work of the renowned metaphysical teacher Louise L. Hay. This gentle healing workshop takes you through a personal evolution. Learn to love yourself and others at a deeper level, go , accept and forgive yourself, release the past and connect within, at the mind, body and spirit level.
Your workshop leader, Dr G. L. Sampoorna is a psychologist and licensed Heal Your Life teacher-trainer for India, one among 21 worldwide, besides being a workshop leader and coach. With close to 40 years of experience in counselling, psycho-spiritual training and her groundbreaking work on forgiveness, she creates a wonderful experience that enables you to heal your life and live your dreams.
Testimonials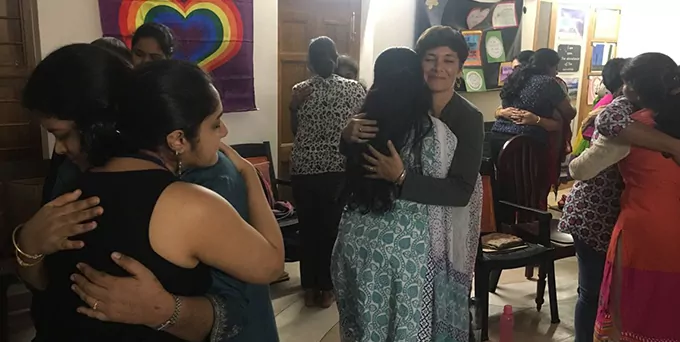 "Very relaxing to release pent up anger and hatred for people you love most. Thank you for taking me ahead in my journey Learned a lot."
- RP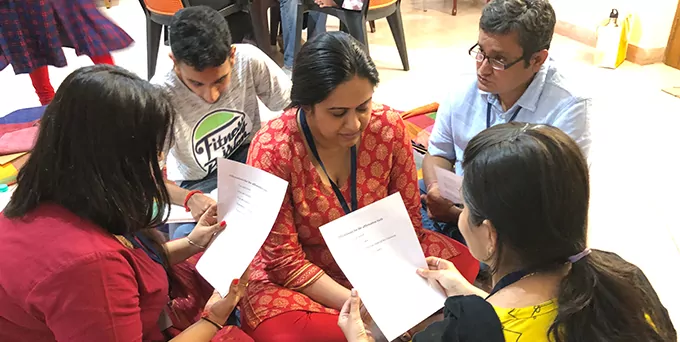 "I came in with a lot of reluctance, not wanting to explore my inner self. But the process was so well coordinated that I am absolutely at ease and feel blessed to have attended the programme."
- Kavita Narayan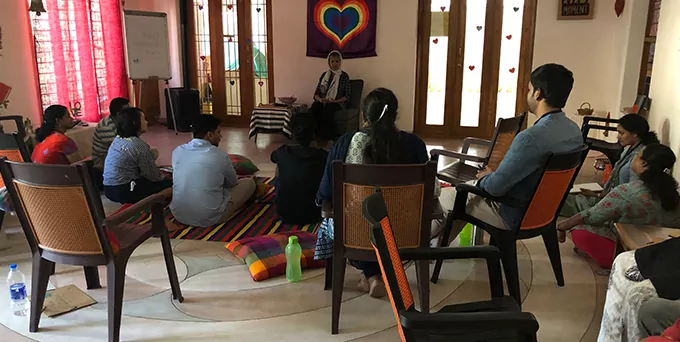 "I came in with a lot of reluctance, not wanting to explore my inner self. However, the process was so well coordinated that I am absolutely at ease and feel blessed to have attended the program. Sampoorna, you have really made a difference and have opened new doors. Love You!"
- Kavita Narayan (2015)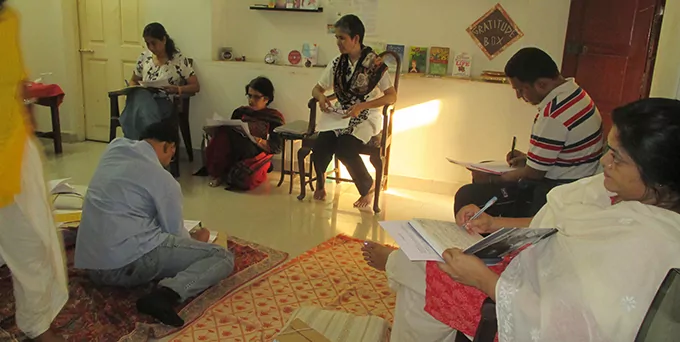 "I am truly inspired with the workshop. With Sampoorna, I am having a long term healing relationship. Very glad to do this workshop with you"
- Suchira (2015)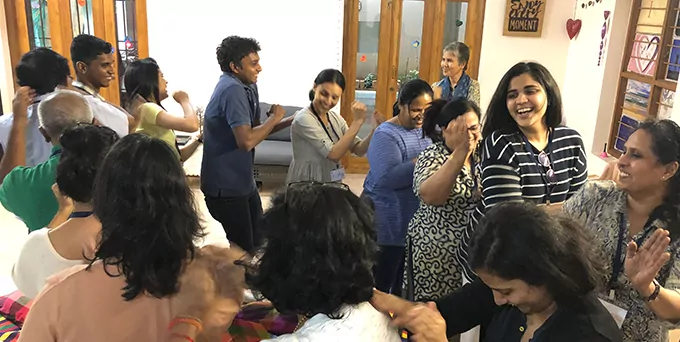 "My life is filled with gratitude today for the confidence I have in all situations. I am easily able to call upon all the tools that I have and am effectively using the power within me. I feel such a sense of peace and gratitude. The changes I have felt in exactly this one year is unimaginable."
– SP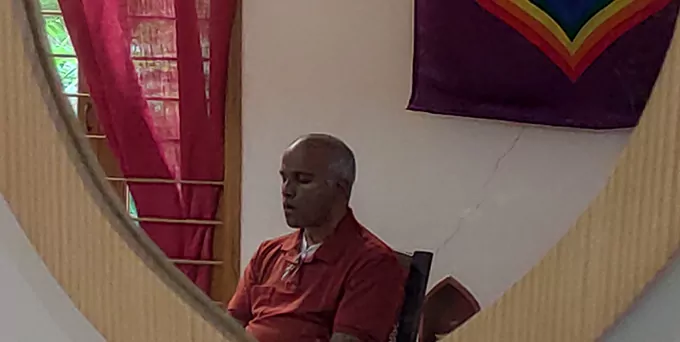 "I am on a high now. Capable of handling everything. Very positive. Very light. Very confident. Joyfully looking forward to every day of my life."
- Chitra (2015)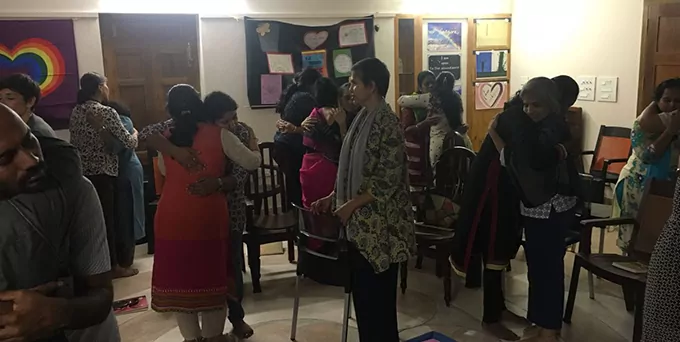 "I was in confusion before I came for the workshop, I felt isolated. Now I feel relieved. My mind is clear."
- GB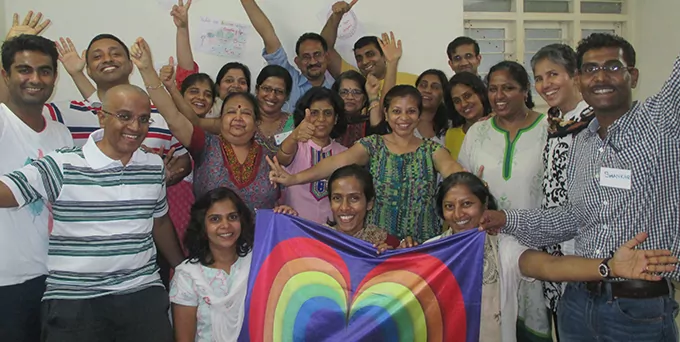 "I am now more aware of my potential and I am learning to love myself, which was difficult for me earlier."
- HR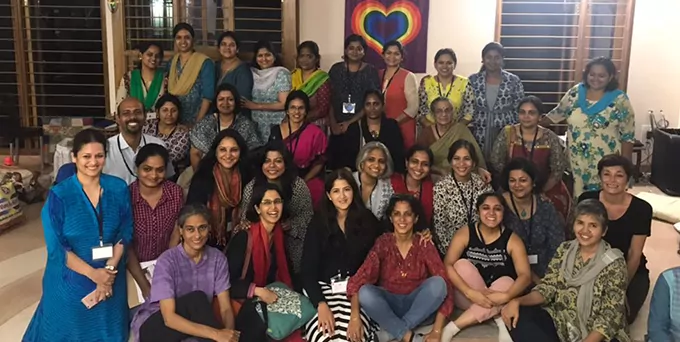 "Thank you. I felt secure and safe to realize and release my blocks in this room which radiated love. I would love to come back for another program."
- NN
"Excellent. Enables you to start looking at life in a new way. Changes your entire outlook."
- V. Sandeep
Love yourself Even More

Taking another step from the Love Yourself, Heal Your Life workshop (LYHYL), this workshop further extends your journey into further self-discovery, exploration and acceptance. You learn to recognize and release your limiting blocks and beliefs. You welcome love, forgiveness and success to start living out your dream life.
Dr G. L. Sampoorna, your workshop leader, has worked with thousands of people teaching them to transform their lives and heal from within, a fact which has made some call her a 'dream maker'. Truly a woman of her word, she practices all that she teaches and lives out her own dream life with a beautiful balance of work, creativity, friendships, travel and leisure.
"I wanted more. I simply wanted more. I felt dissatisfied and cheated with what was being meted out to me by life. And today I feel my life is glorious. I have all that I want, be it travel, money, friends, satisfaction, joy. I have it all."
- Anon
"I returned home from the workshop and miraculously, words began to flow. A fantasy became a reality as I began to write."
- Anon
Teen Empowerment Playshop

Inspired by the adult workshop created by Louise Hay, the Teen emPOWERment PlayShop is designed to help empower teens in loving themselves and finding happiness in their lives, despite current issues and challenges they may be experiencing.
Teen emPOWERment PlayShop is solely for teens of two age groups, 12-14 and 15-18. In a safe and comfortable environment, teens open up and contribute life experiences and concerns. They learn new skills and tools to assist them in living a more self-fulfilling life, while supporting one another through the process.
Format: Six week study group, 3 hour classes or one-two day intensives.
Teens will learn how to:
Like who they are and begin to discover that they are deserving and lovable
View themselves as valuable, worthy and powerful
Recognize negative emotions and unwanted behaviors, and learn tools to manage them
Identify core beliefs and release negative beliefs
Build better relationships and make better choices
Find their inner wisdom and power
Empower themselves while transforming their lives by working with the body, mind and spirit connection
Create harmony and balance in their lives, including better health and greater prosperity
Develop a new vision of their futures and create supporting beliefs
Results: Fewer disruptions, improved resiliency, happier teens leading to better collaboration between them, their families and any supporting professionals
Your workshop leader is Dr. G L Sampoorna, a qualified counselling psychologist with over 35 years of experience. A heal your life teacher-trainer, one among 21 world-wide, life coach, artist and writer, she lives joyfully, practicing the principles she teaches.
Testimonials
Ordering from the Cosmic Kitchen

The universe is our cosmic kitchen with an infinite menu card just waiting to take and fulfill your orders! Based on the book 'Ordering from the cosmic kitchen: The Essential Guide to Powerful, Nourishing Affirmations' by Patricia J Crane, Ph.D, this workshop allows you to create a powerful combination for achieving your dreams.
Learn to use the law of attraction effectively to manifest the life of your dreams! In this workshop, you discover the eight principles for creating your orders and you learn to apply them to your career, prosperity, relationships, health, travel and housing. You learn why you sometimes don't get what you want and what to do about it.
Your workshop leader is Dr G. L. Sampoorna, a renowned counselling psychologist practicing since 1980, is a licensed Heal your life teacher-trainer, trained with Patricia Crane. Applying her principles to her own life, she now lives out her dreams through a perfect combination of work, love, leisure and friendship.
prosperity

A man is not rightly conditioned until he is a happy, healthy, and a prosperous being; and happiness, health, and prosperity are the result of a harmonious adjustment of the inner with the outer of the man with his surroundings - James Allen
In this exciting two day workshop, you realize the meaning of true wealth, you learn to identify and release your limiting beliefs and literally create a treasure map to your heart's desires.
Your workshop leader is Dr G. L. Sampoorna, a psychologist, life coach and trainer with close to 40 years of experience. Truly a person of her word, she uses her own principles to live her dream life - one filled with equal parts of work, learning, leisure, love and happiness.
Testimonials
"I worked on a loss I had suffered from a burglary two years ago. On my way home, I received a phone call from the police station saying they had recovered my stuff."
- Anon
"I was able to identify where my scarcity thinking came from. With a few quick exercises, that has shifted and now I am enjoying life's abundance."
- Anon
"I focussed on the one thing I really desired with all my heart and I got it. I wanted to get married and had been looking for some years. Just weeks after the workshop I was engaged and in a short time I was married. I love myself even more!"
- Anon
Other Workshops

We also offer short workshops in the Heal Your Life philosophy for institutions and individuals on demand.
Inner child
Mind/Body Connection
Heal Your Life ® – Teacher Training
Event Date
18th may - 25th may, 2024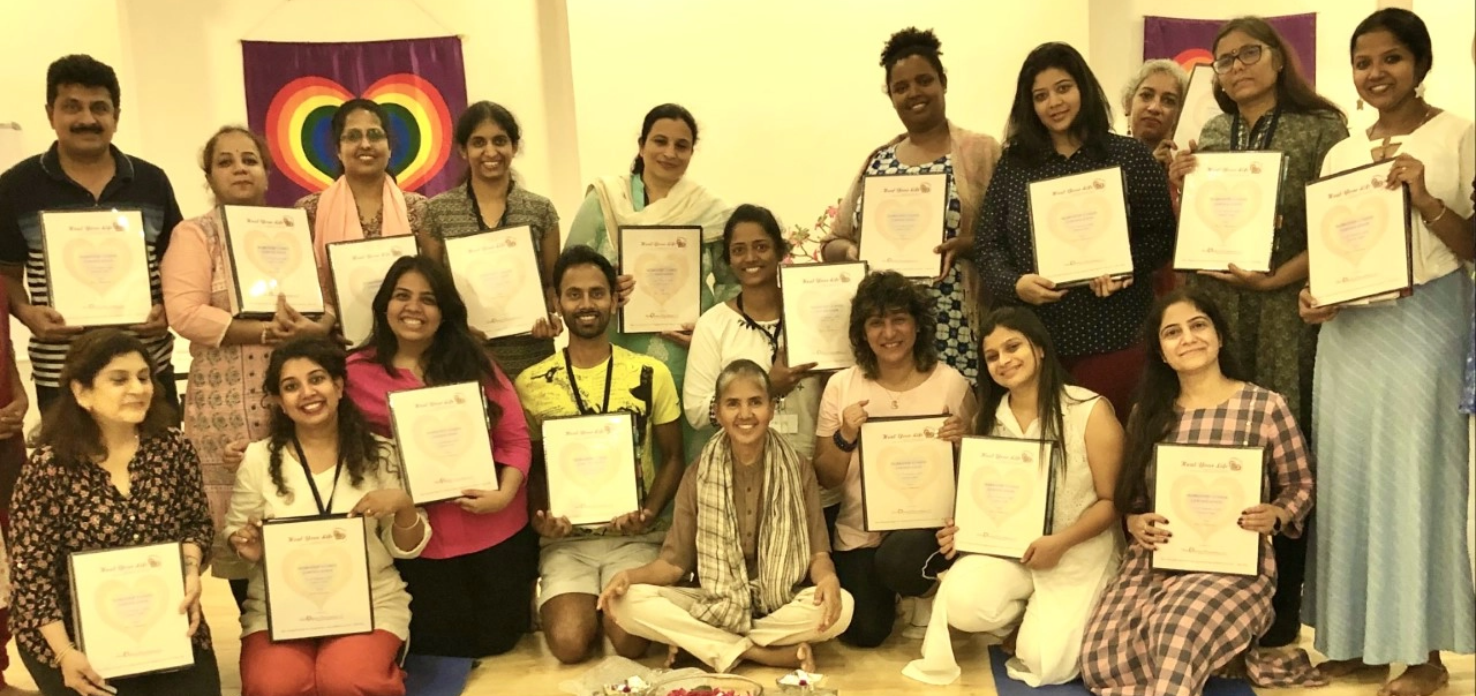 The power is within you. It always has been. How far are you willing to expand the horizons of your thinking and stir that power awake? - Louise Hay
The Heal Your Life® Training is a powerful programme to add skills to an existing career or to start an entirely new one. It opens your heart to more love, expands your mind to the amazing possibilities for your life, nourishes your soul, and provides you with the materials and skills for sharing the Heal Your Life® work with others.
The 7-Day residential programme, based on the philosophy of Louise Hay, is an intensive experience for your personal growth as well as professional training in conducting your own workshops and leading study groups.
At the end of this transformational week you will emerge enriched with a vision for your work, presentation and marketing skills, a certificate of completion, and two complete course manuals to immediately begin leading workshops and study groups. Additionally, you will be listed on the Heal Your Life® workshop leader website.
At the personal level:
Experience new techniques for transformation
Make personal breakthroughs with new insights
Welcome a new depth of self love and acceptance
Clear old patterns more fully
At the professional level:
Receive exhaustive training through unique techniques
Work on opportunities for practicing newly learned skills
Receive CDs and materials for leading workshops
Develop skills that can be integrated into present career
What it includes:
An internationally recognized professional certification authorized by Hay House and Heart Inspired, U.S.A
A listing on the website of the Heal Your Life website, through which potential clients can find you
Two manuals with complete scripts, marketing information, flyers, and more for:
the 2-day 'Love Yourself, Heal Your Life' workshop
a 10 week study course and 14 different sort workshops such as inner child and the mind/body connection
Sessions on understanding intuition and healing the body
Training in marketing and presentation skills
Lodging (double occupancy) and meals
In-depth personal development work as well as training as a workshop leader
Individual follow-up by phone and email after the course
People from many different careers and backgrounds have attended the training: Therapists, counselors, yoga teachers, reiki practitioners, hypnotherapists, social workers, psychologists, corporate trainers, HR professionals, etc. While a background in counseling or experience leading groups is helpful, it is not required. If you are familiar with the ideas in the books of Louise Hay, and are applying her ideas principles in your own life with positive results, with a deep desire to be of service and to share these ideas with others, you are eligible to attend this training.
Since 1995, many people worldwide have been trained to lead Heal Your Life® workshops. They in turn have helped thousands of people make wonderful changes in their lives. If this training speaks to you, we invite you to attend the programme and join this special group of dedicated workshop leaders.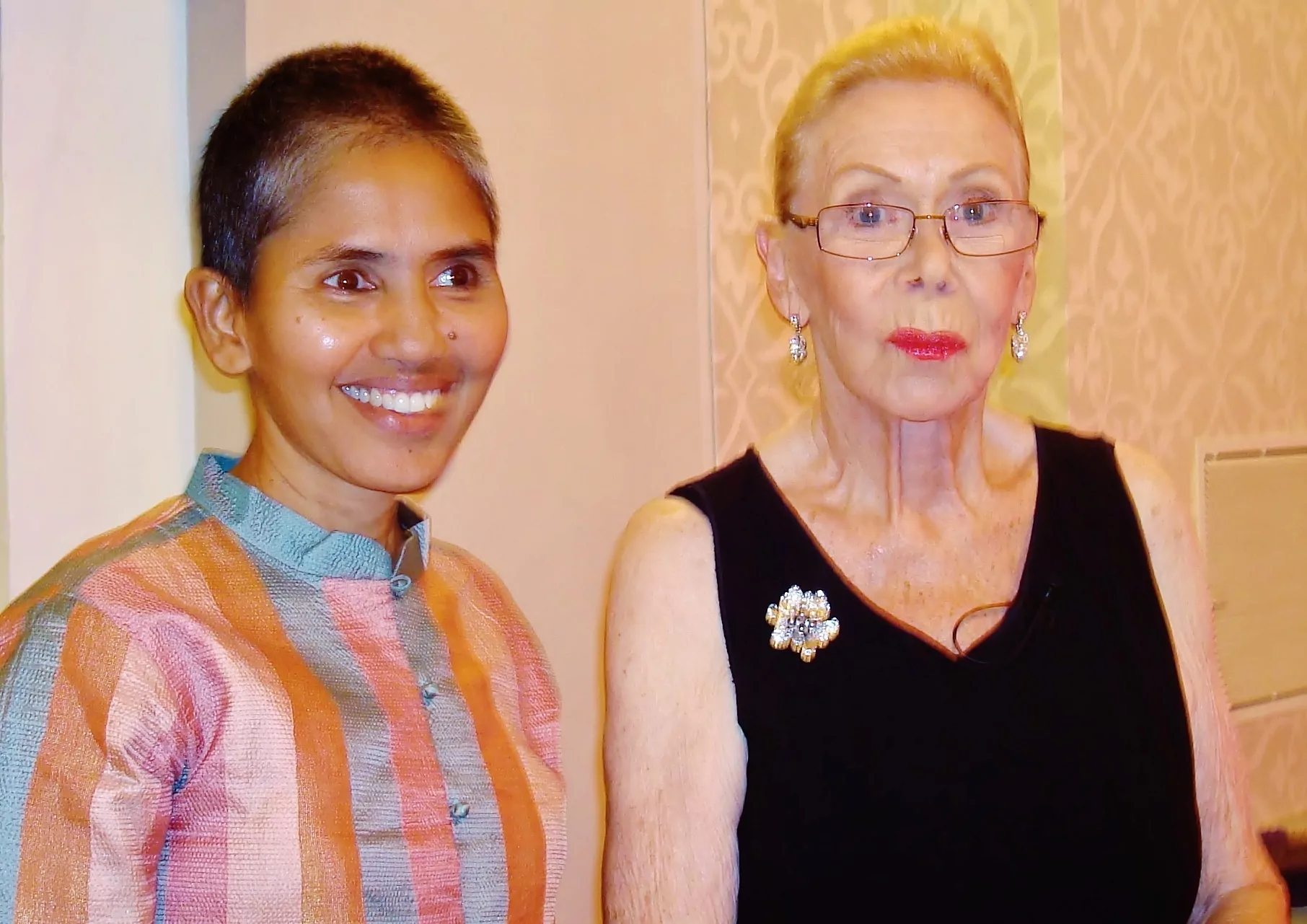 Louise L. Hay is the author of the international bestselling book – 'You Can Heal Your Life' that has sold more than 50 million copies across the globe. She is a metaphysical teacher and lecturer who has changed the lives of millions around the world. For several decades, she has helped people discover and implement the full potential of their own creative powers for personal growth and healing. She has appeared on The Oprah Winfrey Show and many other popular TV and audio programs in the US and abroad.
Trainer: Your trainer, Dr. G. L. Sampoorna, is a renowned psychologist and the founder of Rathna Center for Daily SHOTT (RCCL), a holistic growth and development center based in Chennai, India. A licensed Heal Your Life teacher-trainer, leader and coach, she has worked with people to create the life of their dreams, with an abundance of love, joy and prosperity. Her writing has been published in Modern-day miracles, a collection by Louise Hay and friends by Hay House, USA.
In addition to her work as a Heal Your Life Trainer, Sampoorna is pioneer in forgiveness research and work in India, an NLP master trainer, and has created several workshops and training programs on different topics. A practitioner par-excellence, she has worked and innovated in the field of psychology since 1980.
An integral part of her life is the practice of mindfulness, which she does through Vipassana meditation. Applying the principles she teaches to her own life, she lives her dream out – one filled with a balance of work, leisure, hobbies and friendships.
Location: Chennai, India
Testimonials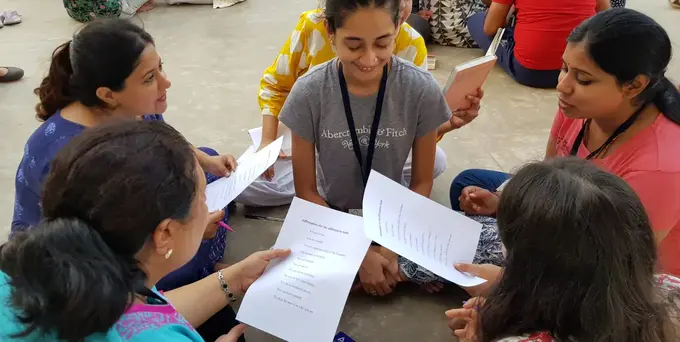 "I was very scared to go within and make proper decisions. You made it just so easy. I got all the answers on how to move forward in life. I found myself back. You made me love myself. You made me spread love as well. Everything went just smoothly in an environment full of love and warmth. Your presence makes me feel at peace. Thank you so much from the core of my being."
- Deepa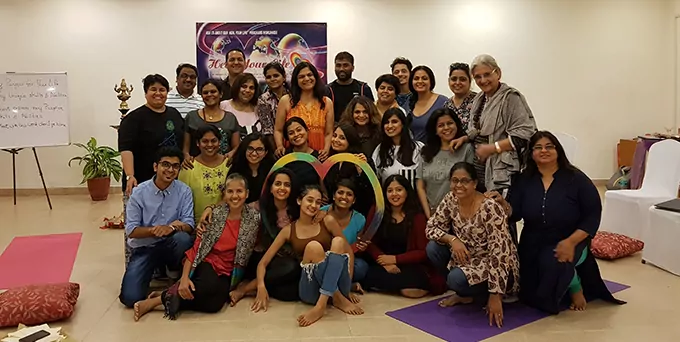 "Really appreciate how the training programme was formatted and conducted. Not only does it equip you to become a facilitator, it also provides an environment for a participant to continue her own inner work in a very powerful way. I feel much more empowered now to take forward my own dream of becoming a wellness facilitator for others."
- Beverly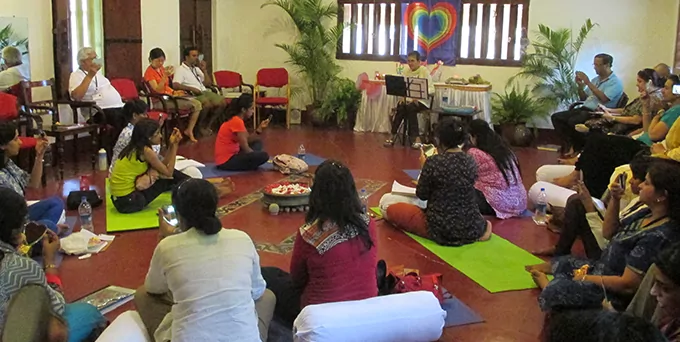 "Sampoorna's effortless grace and poise reflects in her service of selfless love. She takes you to another dimension of yourself, a safe space to discuss and explore new pathways to self-love which in turn serves to love all. She's grounded, serene and peaceful."
- Shraddha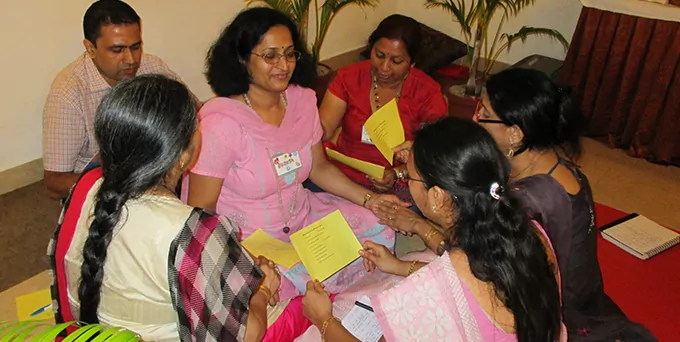 "Dear Sampoorna, thank you so much for the wonderful Heal Your Life Teacher Training. It was the experience of a lifetime. So much love and peace flowed during the whole workshop that I feel it in every cell of my body. What I have experienced here, I am now ready to share with many more. I am extremely grateful to you and already looking forward to doing some more workshops with you for my inner growth. Thank you so much."
- Ritu D.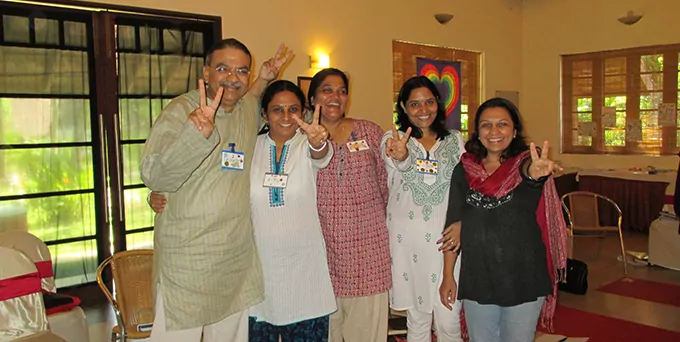 "Dear Sampoorna! This workshop and training has been a turning point of my life. Life suddenly seems more beautiful than it already is! The training has opened new doors in my mind and I have embarked on a journey of self-discovery. I look forward to the adventure! I am taking home a heart full of love and gratitude. Thank you!"
- Mruga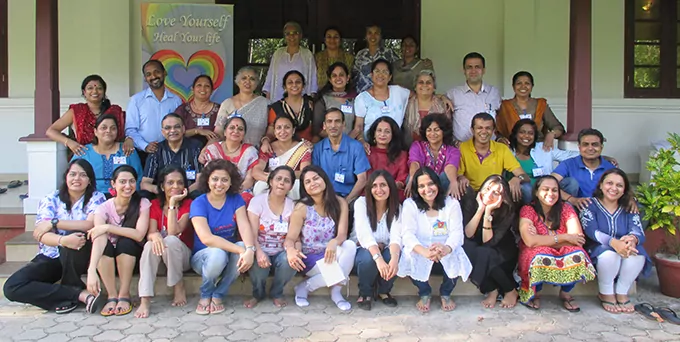 "With regards to the training, it appealed to me from the minute we reached the resort. And I still stand by my statement, it is, by far, the best thing I have done for myself to date. The week almost passed by too quickly, and I honestly do not remember when or if there was ever a time in my life when I have been that involved, awake and enjoyed any workshop. I express my deepest gratitude towards you for being so patient, understanding, unwavering and being a huge source of inspiration. I learnt from you that doing a job and doing a job lovingly makes a world of difference."
- Anitha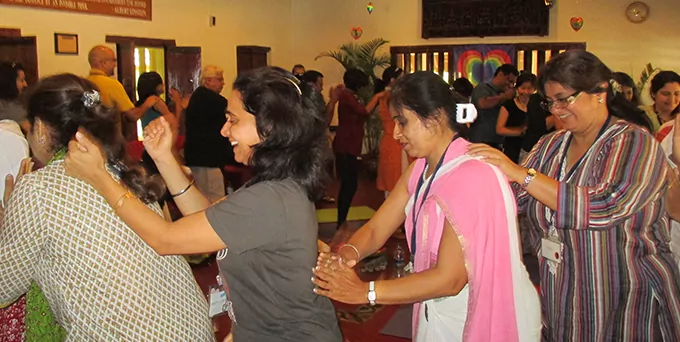 "Dearest Sampoorna, heartfelt gratitude for being in my life! Thank you for the most remarkable, memorable, transformational week of my life. So much transformation, indescribable, a lot of insights leading me to an all new direction of spirituality. Not having enough words to express. Nothing more to expect from anyone, since I found my own treasure-house of love for myself. I still have much more love to spread among my world. With lots of love & gratitude."
- Rekha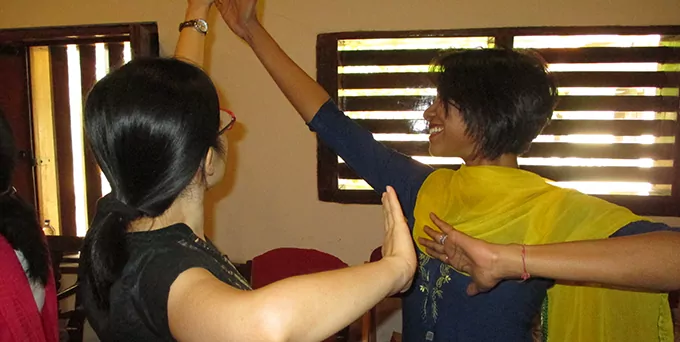 "Dear Sampoorna, immense love and gratitude for leading me to feel and experience unconditional love and compassion. After 7 days of this workshop, I am so much more 'ME' than I have ever been. Just to 'be' is an amazingly liberating feeling. Thank you for creating the perfect space where 'to be' was effortless as breathing. I take back more healing and abundance. I also go back now so much more aligned within. Having broken more shackles, having de-layered little more, leaves me so much more empowered to pursue my dreams. You created an experience that is indeed life changing in more than one way. You are a true blessing and a delight. My heartfelt, big thank you." Love and hugs.
- Piyush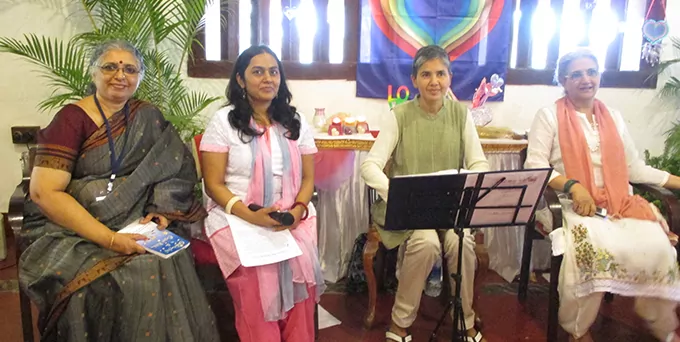 "I want to take this opportunity to thank you Sampoorna. You are a wonderful person & a powerful soul, I enjoyed every second in your Heal Your Life workshop. I can't put down in words the calm I am feeling in my heart just by being a part of this 7 day workshop. I am sure this is just the beginning to a beautiful life. Thanks for sharing your wisdom with us. Thank you, once again. I love you."
- Shikha
"Sampoorna, it's my pleasure and blessing to get trained under you. Lots of love and happiness and good wishes to you. You are doing a wonderful job. Your serenity and calmness reflects and shines from you. Your composure is attracting so much compassion all around. Thank you from the bottom of my heart. Love and joy and lots of light to the divine being." In Gratitude
- Megha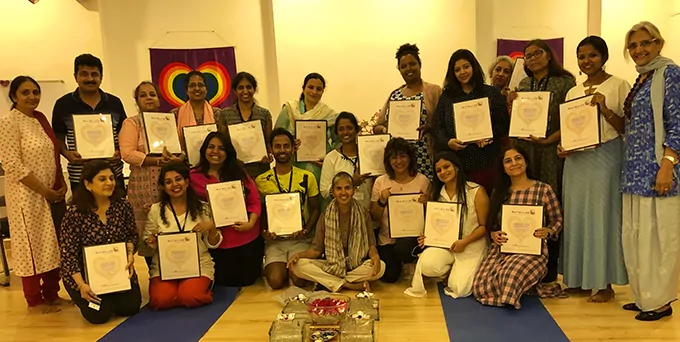 "Sampoorna, Thank you. There is something in your eyes which made me feel 'I can do it'. You are lighting so many lives. I am blessed that I am one of them. You are an inspiration. Your teachings, your assertiveness and your voice took me to another place; a place that I was always searching. Thank you. Because of you I can proudly say I love and approve of myself, exactly the way I am."
- Rinki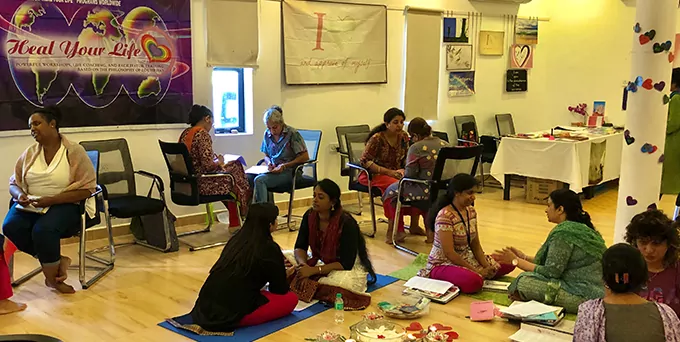 "Dearest Sampoorna, I truly cannot express completely how you have always changed our lives by always guiding me and showing the right path. I am here on this journey only because of you. You radiated the aura and energy every time I stepped into the training room. I feel truly liberated and full of energy and confidence to take on this new journey of my life. Thank you, so much."
- Love and regards, Sweta grandhi
Heal Your Life ® – Teen Empowerment Playshop Leader Training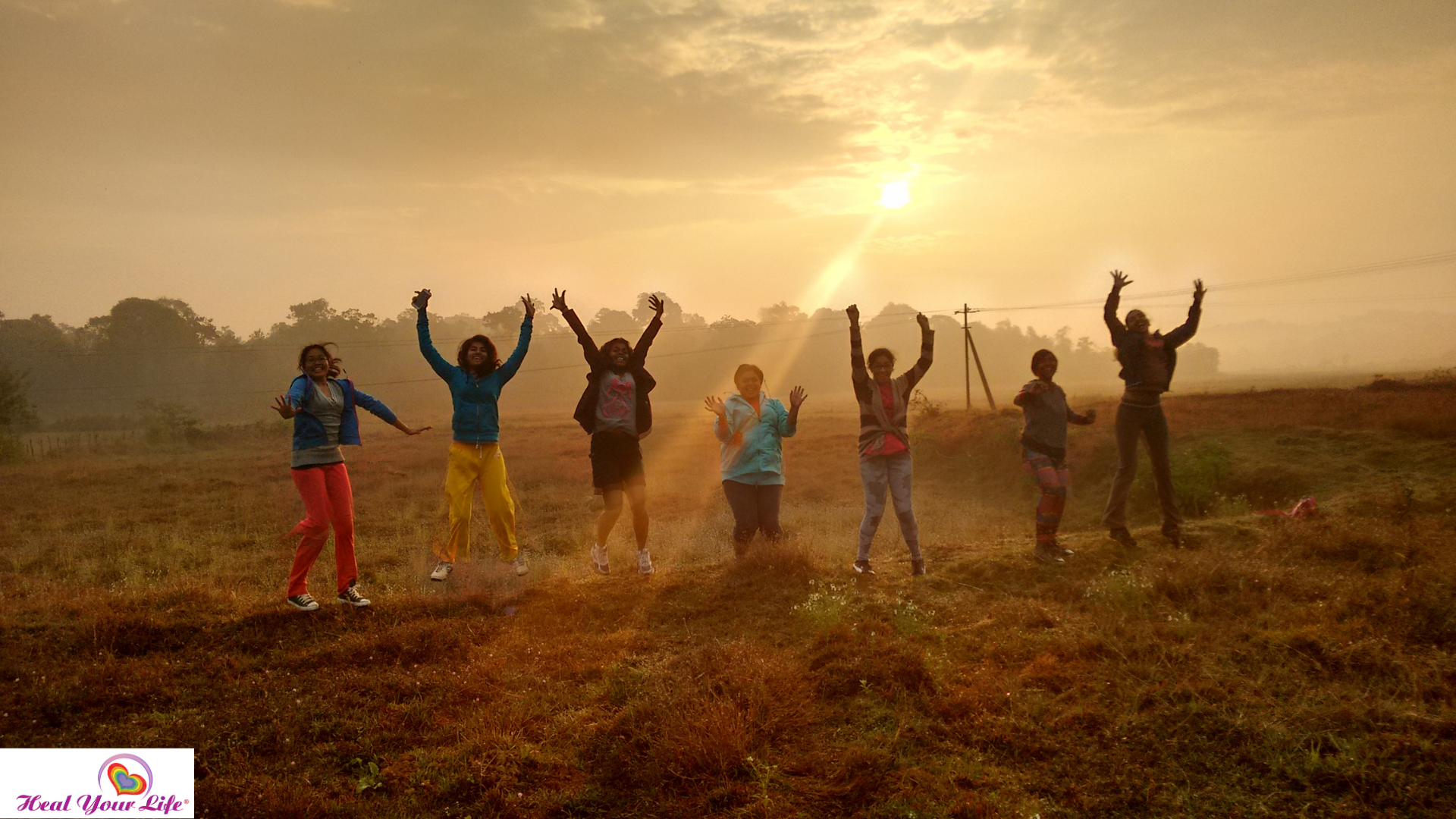 The Teen empowerment Playshop Leader Training is an exciting two-day training specifically for Heal Your Life® teachers. While the Heal Your Life® Teacher Training qualifies you to use the philosophy and processes with adults, this training will enable you to use them with the younger generation.
Duration: Two days
In this training, you will learn to facilitate the Teen emPOWERment Playshop for two age groups: 12-14 and 15-18. By experiencing the workshop yourself on the first day, you will understand how to adapt the principles and techniques to suit the needs of younger people. You will have the space to process your own experiences as a teenager, and use those learnings to help teens deal with their challenges. In addition, you will also gain invaluable insights into their mindsets and will be equipped with methods to help them love themselves and find happiness in their lives.
Your trainer is Dr. G. L. Sampoorna, a counselling psychologist since 1980. She has led and facilitated hundreds of workshops since the mid-90's. She is one of 21 'Heal Your Life' teacher-trainers worldwide.
Testimonials
"Dear Sampoorna, I really enjoyed the teen playshop training. I loved the way you lead us through all the activities. What I really liked and enjoyed were the small tips that you gave us to keep the kids engaged and fully immersed in the playshop. I am always amazed at the way you lead us, inspire us, motivate us and empower us. At the end of every training I feel, 'Yes, I can do it!' Thanks a ton." Lots of love
- Priya (2019)
"It was the most magical experience. Sampoorna is so loving and warm. The energy was so positive and these two days have really been the most transformational and beautiful experience for me. A big thank you to ma'am for all her guidance and support."
- Amisha Fogla (2019)